I love to cook, but there are days when I want something easy, fast, and delicious, and this salad certainly fits the bill!
This recipe is so easy, and so quick, you'll be eating it all summer long! Nutritious, high protein, fun to adjust and play around with, and delicious too! It's great for packed lunches, pot-luck offerings, side dishes or a main course, it's up to you!
Here's the basic recipe:
1 lb fresh mozerella cut into bite sized pieces
2 medium/large cucumbers cut into bite sized pieces
1 can (15oz) mixed salad beans, garbonzo beans, or other favorite beans
1 can (15oz) whole kernel sweet corn
1 can (6oz) pitted ripe black olives, cut in halves
1 bottle (12oz) Italian-style salad dressing
2-4 scallions, finely chopped
black pepper to taste
hot sauce or hot pepper sesame oil to taste (optional)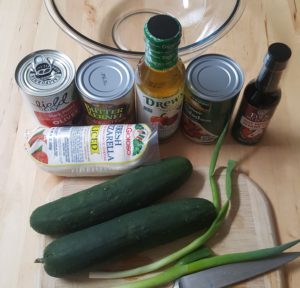 Directions:
Wash, trim, and chop cucumbers and scallions
Chop mozzarella
Put everything in a large bowl (I use a 4 quart Pyrex bowl with cover) and stir well
Keep refrigerated until ready to serve
Enjoy! It's that easy!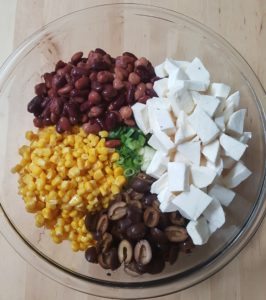 Suggestions for substitutions:
Replace mozzarella with extra-firm tofu, hard-boiled eggs, tempeh or seitan
Use any kind of bean you like best: garbanzo, black beans, butter beans, etc.
Instead of plain black olives, try spicy olives, stuffed olives, pickled garlic, or a combination
Add cherry tomatoes or fresh salsa
Add fresh chopped herbs: basil, oregano, parsley, mint, dill, cilantro, chives, fennel