Catnip, Nepeta cataria, is a perennial herb, a member of the mint family, and one of the friendliest plants around. Its soft, aromatic leaves give you an idea of its gentle, calming effect on the mind and body. The square stems are a dusky purple color and grow quickly and abundantly with lots of water and sun. Catnip flowers are tall, frothy spires of white and sometimes purple blossoms that are much beloved by bees and other pollinators throughout Catnip's long blooming season. The leaves and flowers are used medicinally, either dried or made into tea while fresh.
Aside from its highly esteemed position in the cat world, Catnip for humans is best known for being a soothing, calming herb and a sedative for the nervous system. It helps to release built-up emotional tension while it gently tones the nerves. It is often given to counteract hyperactivity and nervousness in children. As a tea, it has a pleasantly minty, soothing taste, and it adds a delightful, floral, minty flavor to any tea blend. Catnip goes very well with Lemon Balm as well as with Chamomile, Lavender, Spearmint, and Peppermint.
Catnip is also well known for being one of the best, safest herbs for children. Catnip is a diaphoretic and a febrifuge, helping to break fevers, and it's one of the few febrifuges that is safe for kids. The sick child will benefit not only from Catnip's diaphoretic properties but also from its calming, sedative effect. For children's stomach aches, sleeplessness, and general mood and wellbeing, there's nothing better than Catnip. And as an added bonus, it's actually tasty to drink.
Catnip is gentle and powerful at the same time. A tea of Catnip is gentle enough for soothing children's stomach aches, but it will also break a fever and stop diarrhea in its tracks. You can get a sense of this by crushing Catnip leaves in your fingers and smelling the powerful aroma released. It is both soothing and stimulating at once. As with any herb with a high essential oil content, Catnip is very good at dispersing stagnant energy, be it physical or emotional. Its rich essential oil content ensures that it eases digestive pain, stimulates digestive processes, and dispels excess gas.
This is a wonderful herb to get to know– you'll have a lifelong friend in Catnip. In our generous DC-area climate, Catnip is easy to grow and will come back year after year. It will grow happily in a pot indoors given enough sun and water. Right now the Catnip in our garden is a couple of inches high and already receiving visits from the neighborhood cats.
Some Traditional Uses for Catnip:
Eases stomach discomfort in children and adults
Calms and restores the nerves
Eases anxiety, nervous tension, and emotional "congestion"
Counters the effects of ADD, ADHD, and hyperactivity in general
Stops diarrhea
Relieves colds and bronchitis, antiseptic, dispersant action
Acts as a diaphoretic for fevers
Relieves digestive discomfort, stagnation or gas
Relaxes, tones, and restores the bowels when used as an enema
Relieves insomnia, especially in combination with Passionflower and Lemon Balm
Brings delight to cats around the world
The best way to get to know Catnip is to meet it in person, so come to the garden and find out why this herb isn't just for cats! Stop by the garden any time, or volunteer alongside Smile staff on the following days:
Mondays – 10am-2pm
Thursdays – 8am-12pm
Fridays – 10am-2pm
Saturdays – 10am-2pm
[sm_smaios_colorbutton color="green" size="small" type="rounded" target="_blank" url="https://www.smileherb.biz/product-p/79.htm"]I'd like to try Catnip![/sm_smaios_colorbutton]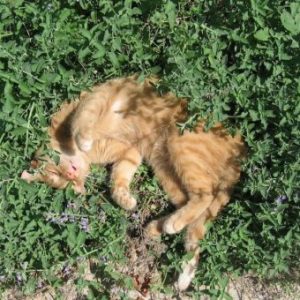 Nicole can be reached at herbalcole@gmail.com
Save
Save
Save