I have always, always had an affinity for Oolong tea over any other kind of tea (except for a brief stint where I'd fallen into lust with a Christmas Morning breakfast tea blend when I was 22 years old).
I've often wondered about this affinity. Why do I like Oolongs? Why do I choose them when I go out to a tea house? Why do I have to stop myself from buying more Oolongs for Smile Herb Shop when I am choosing new teas? (Hint: It's because we need to have a balance of teas instead of the massive Oolong section that would give me the most pleasure!) What is it about this tea that has me so enraptured? I wondered if it was just tea in general, but no. It's clearly Oolong. 
Herbally-infused hot liquid has always been a part of my life. My great-grandmother Oliva was a Spanish emigree, arriving by boat in Florida at the age of 5. She was raised on traditional medicines like Sopa de Ajo (garlic soup) when sick, and a belly massage with good olive oil from Spain for tummy aches. She truly believed peppermint and German chamomile tea could cure just about anything.
In our house, when you were sick, you got a Lipton tea bag tea with a squeeze of lemon and liberal lacing of honey. To this day, when I am down with a cold, I have a cup of black tea with lemon and honey, having graduated from the dust and fannings of a Lipton tea bag to the loose-leaf good stuff, of course. 
The event that changed tea selection in my life for all time was the first time I went to a sit-down Chinese restaurant; you know the kind, with tablecloths and little candles. This restaurant automatically served a little cup of tea whether you asked for it or not. This was my first experience with Oolong, and it has sparked a decades-long love affair.
There is something so soothing about Oolong's mild, yet fragrant and oftentimes almost flowery aroma that wafts its promise of deep contemplation. It isn't as bitter to me as a cup of black tea, and I don't need any sweetener with my Oolong. The difference between the black tea of my childhood and the heavenly liquid swirling around in this dainty, handleless cup was astounding!
I've since learned that there is a vast difference between Oolong tea and Black tea, and there is also very little difference between them too. Talk about confusion! Oolong tea and Black tea are both made from the tea plant, Camellia sinensis. Their differences lie in how they are processed and prepared.
Oolong tea leaves are fermented and only partially oxidized (allowed to react with air after being plucked), and then they are processed. This relieves the leaf of its tannic bitterness. It is smooth and sweet and oh so very fragrant.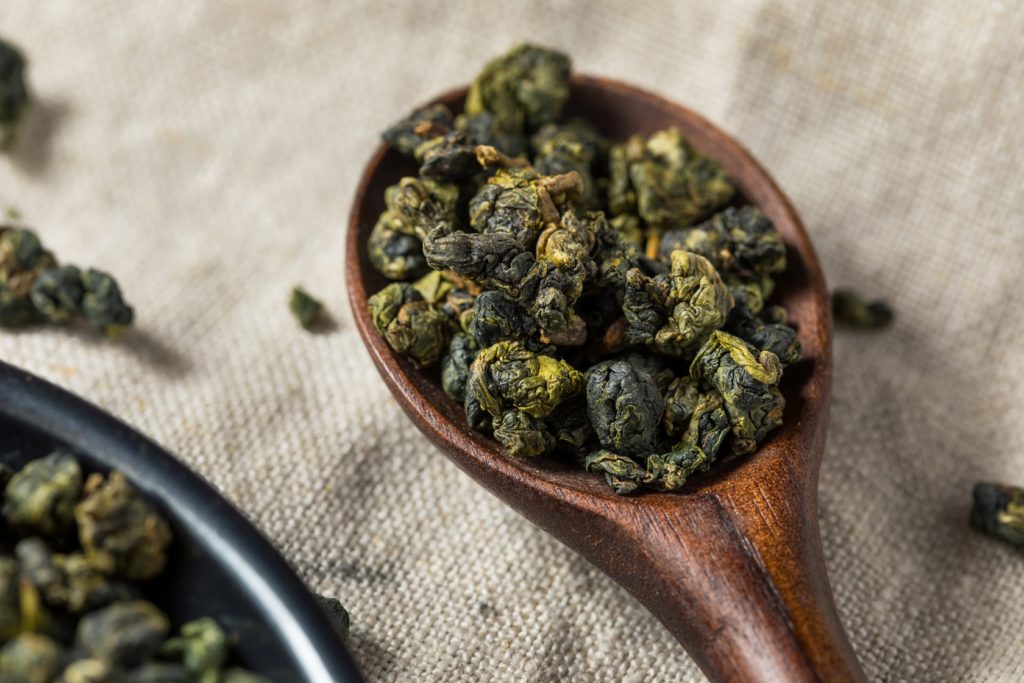 When you look at the health benefit differences between the two types of teas, however, there aren't too many. All varieties of tea (green, black, white, oolong, and pu-erh) have similar health benefits. European studies have shown that black tea has similar health benefits to green tea, and studies in Taiwan have shown that Oolong shares these results. And the results themselves?
Tea, Camellia sinensis, contains high quantities of polyphenols, the phytochemicals that literally produce cells that consume free radicals, which cause cancerous tumors to grow. The more polyphenols we consume, the better chances our bodies have of fighting off free radicals. That's one of the reasons health experts suggest we eat the colors of the rainbow in our fruits and vegetables, for the amazing phytochemicals available including polyphenols and antioxidants.
They say that Oolong being helpful for curbing appetite cravings is a placebo effect, and I cannot find any study to prove it true, but I have noticed that I am much more satisfied with less food and less sweets when I have Oolong tea than when I have any other tea. Perhaps it is a health benefit that isn't quantifiable, or perhaps it is the energy of the tea leaf and how the tender care paid to its process imbues its brew with respect and satisfaction for what has been given; who can know for sure?
What I love most about Oolong is its mysterious nature, just like the dragon it is named for. The word Oolong is derived from the word Wu loong, which means Black Dragon. Dragons by nature are fierce in their love of special, unique things, like treasure, their incredible cunning, and great intelligence. I like to imagine as the hot water hits the tea leaves that their swirling motions are dragon wings unfurling. The fragrant steam curling upwards is like dragon smoke, whispering a secret message just for me. 
I've finally come to realize my affinity with Oolong is simply because Oolong is my tea. As a good friend helped me understand, I am, after all, just like an Oolong. I have layers of flavor that change depending on the day (just like each oolong variety is a little bit different). I am a leaf that unfolds slowly, with time, and just the right temperature. Like my favorite Oolong, the Ali Shan Oolong, I'm apparently sturdy and reliable, and a little mysterious, too.
Each leaf of Oolong gets better and better with each brew, and it's beautiful without being too fussy. Like my newest Oolong love, the Quangzhou Milk Oolong  and with a "bring it on" attitude, which I have to say sounds a lot like me (and like our Jade Oolong).
So I suppose I am an Oolong and I have always been an Oolong and always will be an Oolong, and now when I go to a tea house and overhear someone else ordering an Oolong, I look over and I smile, knowing I've encountered another dragon in the tribe…and I wonder if they see me too.